When you live in the greenest city in the world (a.k.a. Vienna), you typically spend plenty of time in the beautiful parks and natural reserves in the city. When the first spring rays of sun awake the nature and the green color starts to win over the winter brown and grey, that's when you will see many locals, picking something in the woods into huge bags.
Before I moved to Vienna, the "Bärlauch Phenomenon" was totally unknown to me. But as soon as I experienced my first spring in Vienna, this special grass that smells and tastes like garlic and onion at the same time, was brought to my attention.
Czech people, probably even more than Austrians, are fond of the gifts that mother Nature gives us, so it was within this expat group that I learned a lot about its use.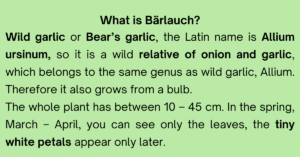 Is it healthy?
It contains allicin, which is a healthy substance that prevents from certain viruses and bacteria. However, boiling the plant reduces these effects. It contains also vitamin C, but not as much as the usual garlic.
Where to collect it
Please be aware that this plant is protected in certain areas, such natural reserves. But there is typically a written sign by the entrance into such a place, that will ask you not to collect any plants.
Fortunately, wild garlic grow all around the city, so the possibilities where to go are many. Check the nearest grove by your house.
How to use it
Fresh leaves – cut it into your salad, soups, pasta
Pesto – blend the leaves with salt, pine nuts, parmesan cheese, and olive oil
Spread/ butter – blend the leaves with salt and melted butter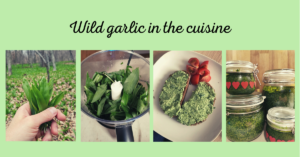 Enjoy! 🙂